Alright, so I'm a little late on this one, but we had a holiday to contend with. The week before Thanksgiving I experimented with my grocery shopping a bit, and even though I'm late, I wanted to make sure to share my experiments with you.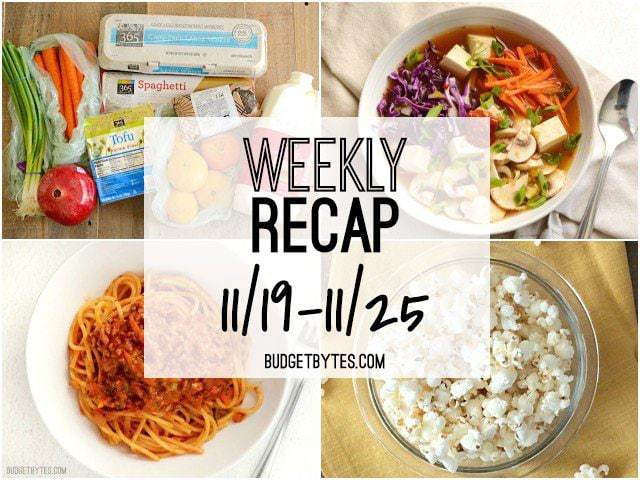 What was this experiment? Buying more responsibly produced food items.
Wait, what?
When I started Budget Bytes my only concern day in and day out was survival. Making sure I had a roof over my head and at least some food in my belly. Over the past six-plus years my financial situation has changed and my priorities have changed along with it. Now that having a roof over my head isn't as much of a daily worry, I'm trying to put more efforts into making smart consumer choices. For me, that means food that is responsibly produced and buying from companies that conduct business in an ethical manner. So, now that finding the absolute cheapest ingredients isn't my number one concern, you may see my ingredient costs go up just a little. Am I still going to shop and cook on a budget? ABSOLUTELY. But if your priorities aren't the same as mine, you may very well be able to make my recipes for a little less than me. ;)
Anyway, I'm easing myself into this new system and I decided to go to Whole Foods Market to check out the prices and see how I can start to integrate some different products while staying on budget. To my surprise, much of their produce was not only better quality than my local grocery store, but it was CHEAPER. What?! I was so stoked. I was also able to get a lot of WFM generic items for close to the same price as the generic items at my local grocery store. So, it definitely pays to shop around and I admit I haven't done that lately.
Oh, I also have to mention that one of the only reasons splitting my shopping between two stores works for me is because Whole Foods Market and my local grocery store are only about a mile apart, so I can hit one store then stop at the second on the way home. That makes life pretty easy.
What Did I Buy?
Heheh, I have a new system for making sure I got everything on my list. 👍
I stopped at Whole Foods first and found some local satsumas (listed as tangerine on the receipt) for only $1.69/lb. OMG they were so good! I also bought the most perfect looking carrots for only $0.79/lb. (normally I pay $0.99 or a little more for a one pound bag). They were picture perfect, organic, and sold loose, so I could get exactly the number I needed. Love it! Pomegranates were on sale for $1.50, so I grabbed another one of those, and I picked up milk because it was the exact same price as it is at my local store. Eggs were only about $0.20 more (and better quality), as was the pasta, so I also bought both at WFM. Ground beef was more expensive, even on sale, but that's one of the products that I'm probably going to be pickiest about, so I splurged. And because WFM specializes in natural-type products, tofu was less expensive than at the regular grocery store.
Next I stopped by Rouse's (my local grocery) and picked up the remaining few items. Pasta sauce was quite a bit cheaper here, so I waited on that item, as were the zucchini, mushrooms, and tortillas. I thought rice vinegar was going to be cheaper at Rouse's, but it's gone up since the last time I bought it (it lasts me for-ev-er). It was actually about the same price as WFM. There was a HUGE sale on shredded cheese again, so I also grabbed an extra bag of that (YAY!).
Here's what the week's groceries looked like:
That little package of 1/2 lb. beef looked so small, but once I got it in the skillet, it really didn't seem so skimpy. Again, I loved that I could go up to the counter and ask for the exact amount of ground beef that I needed, instead of having to get the pre-packed beef and freeze half of it for later (and potentially forget about it).
I was pretty pleased with how I split my groceries and I know that once I become more familiar with the price points at WFM it will be easier to know where I should buy certain ingredients. Both stores certainly have their advantages and disadvantages.
What Did I Eat?
I didn't really cook a lot this week because I knew Thanksgiving was coming up so I took it kind of easy.
My main meal this week was spaghetti with this amazing Vegetable and Meat Sauce. I love cutting the meat in half and replacing it with vegetables. There's more flavor, texture, color, nutrition, and less cost. I only wish that I had added a second jar of sauce so that I could have spread it out over more than 4-5 servings of pasta. I wanted to eat this every day (sometimes twice!), but I needed to spread it out throughout the week.
My secondary meal was this colorful Hot & Sour Vegetable Soup with Tofu. I wanted something lighter to balance the belly filling pasta, so I went with a vegetable filled soup. I originally was going to put noodles in this, too, but decided that was just tooooo many noodles in one week. :D It turns out it didn't need them. It was filling, but not the type of filling that makes you feel sick and heavy. YUM <3 This is one of the very few times I've experimented with tofu, which I now know is super cheap, and it turned out well. Probably because I didn't have to do anything to it except drop it in the broth. :P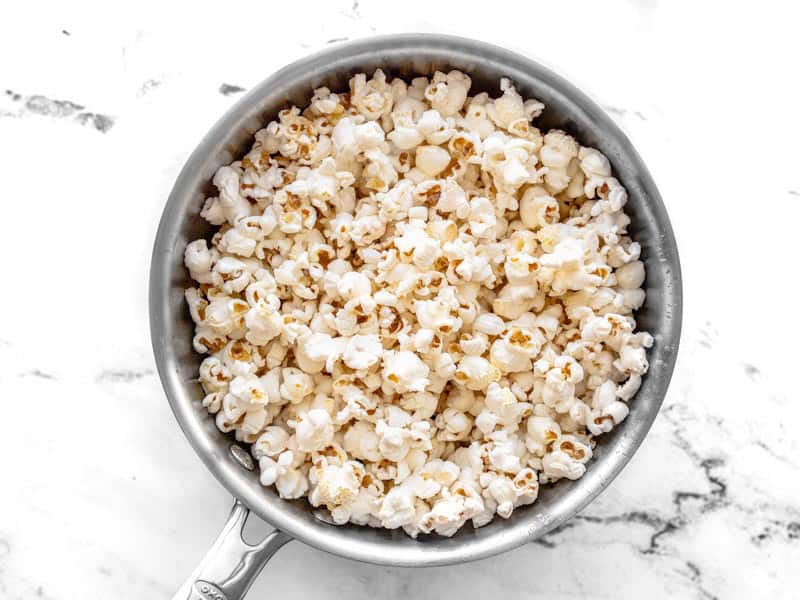 I also snacked a lot on stove top popcorn this week, because it's my FAV-OR-ITE. Super fast, easy, and cheap. It has so much more "corn" flavor than microwave popcorn, and a much better texture (IMHO). Microwave popcorn feels like dry styrofoam to me, but stove top has more bite and doesn't seem as dry.
Because I didn't cook a lot this week, I found myself falling back on my old standby–tortillas with cheese and an egg. I went through a whole bag of shredded cheddar that was in my freezer. Oops.
My boyfriend also brought home a rotisserie chicken one day, so I whipped up a quick pizza with the second half of the dough that I made for the Eggs Florentine Breakfast Pizza. I pretty much made the same pizza, but replaced the egg with chicken. It was good and prevented us from eating out. :D
I DID make an extra trip to the grocery store to pick up items for Thanksgiving. I didn't host at my house (I don't need that stress!), but we did bring two dishes to our host. I made this Apple & Cranberry Crisp from Martha Stewart (or is it Emeril's?) because it's easy and inexpensive. I also made some dates stuffed with goat cheese and wrapped in prosciutto. That was totally NOT inexpensive, but I love them so much that I figure making it once every few years should be okay. ;)
Reflection
So there were a lot of extras this week that went outside of the usual budget (rotisserie chicken, Thanksgiving supplies), but I was still pleased that I was able to get my usual stuff for $30 despite buying half of it at "Whole Paycheck" as people call it. I also shared a lot of my food with my boyfriend this week because we're both trying to stay on a low budget. As we eat more meals together, I think I may adjust the weekly budget and plan to accommodate our shared meals. I'm taking this post-Thanksgiving half week off and will pick up the weekly budgets and recaps probably starting on Tuesday. I'm going to try a $40 weekly budget and aim for 4 recipes to cover us both for the week. I'm looking forward to the challenge!
Till next time!