This week I'm bringing my own salad bar to lunch! I love a good salad bar and being able to mix and match vegetables, proteins, and other goodies, so that's what has inspired my Orzo Salad Meal Prep this week. I paired my Italian Orzo Salad with slices of fresh mozzarella and hard boiled eggs for a light and satisfying cold lunch meal prep. I'll list some other ideas of what can be paired with the orzo salad below, if you want a different mix for each day or just aren't a fan of eggs or mozzarella. :)
For more information about meal prepping, how it works, and why I do it, check out Meal Prep 101: A Beginner's Guide to Prepping and Portioning Meals, or check out my entire Budget-Friendly Meal Prep Archive.
Orzo Salad Meal Prep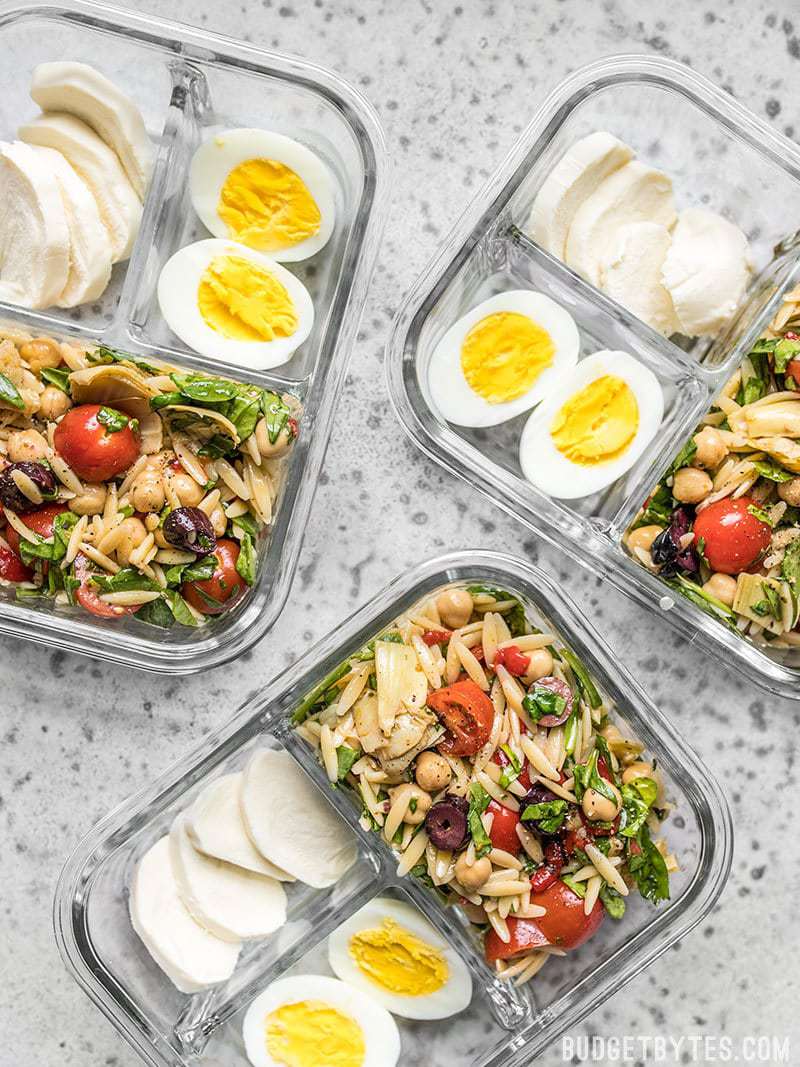 This Meal Prep Includes
Italian Orzo Salad: $8.77
4 large Hard Boiled Eggs: $0.88
8oz. Fresh Mozzarella: $2.79
Total Cost: $12.44
4 Servings: $3.11 each
Leftovers: NONE

The glass meal prep containers shown in the photos can be found here, and all my other meal prep containers can be found here. As an Amazon Associate I earn from qualifying purchases.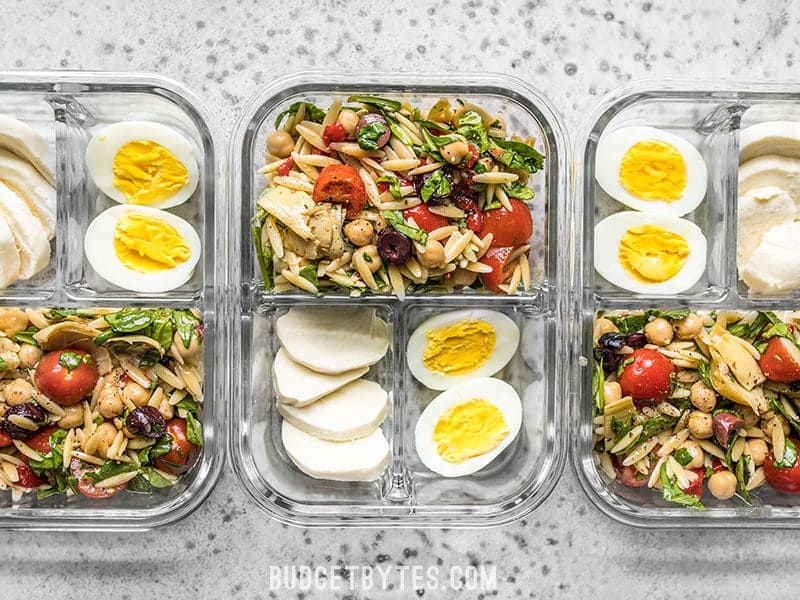 How to Hard Boil Eggs
Place your eggs in a sauce pot and add enough water to cover the eggs by one inch.
Bring the pot up to a boil over high heat. Once it reaches a full boil, turn the heat off, place a lid on the pot, and let the eggs sit for 15 minutes. (15 minutes is the appropriate time for LARGE sized eggs. Larger or smaller eggs will need more or less time.
After 15 minutes, transfer the eggs to an ice water bath and let them cool in the ice water for 15 minutes.
For step by step photos of this process, check out my Sriracha Deviled Eggs recipe post.
Notes:
Hard boiled eggs stay the freshest in their shell, but I peeled and sliced mine open for the photographs.
This salad would go with several other side items, like: salami or pepperoni, grilled or rotisserie chicken, cubed cheddar cheese, crackers, garlic bread, sliced bell peppers, or dried apricots.
I found this salad to hold up surprisingly well, even after the dressing was added, but if you want extra protection against wilting, pack the dressing separately and add it just before serving.