Ooooh, we're gettin' fancy over here! This week I splurged on a fresh herb other than my usual parsley or cilantro (the cheap ones) so I could make this fabulous Minty Pea Salad. I paid a hefty $1.99 for a clamshell of mint, but I know it would be well-used and very appreciated. While it's common for mint to be used in sweet dishes, it also provides a uniquely fresh flavor when paired with savory ingredients. Mint takes the springlike quality of these green peas to a whole new level. Plus, the cool refreshing herbal flavor was the perfect juxtaposition to the spicy Curried Potatoes with Poached Eggs that I served the peas with.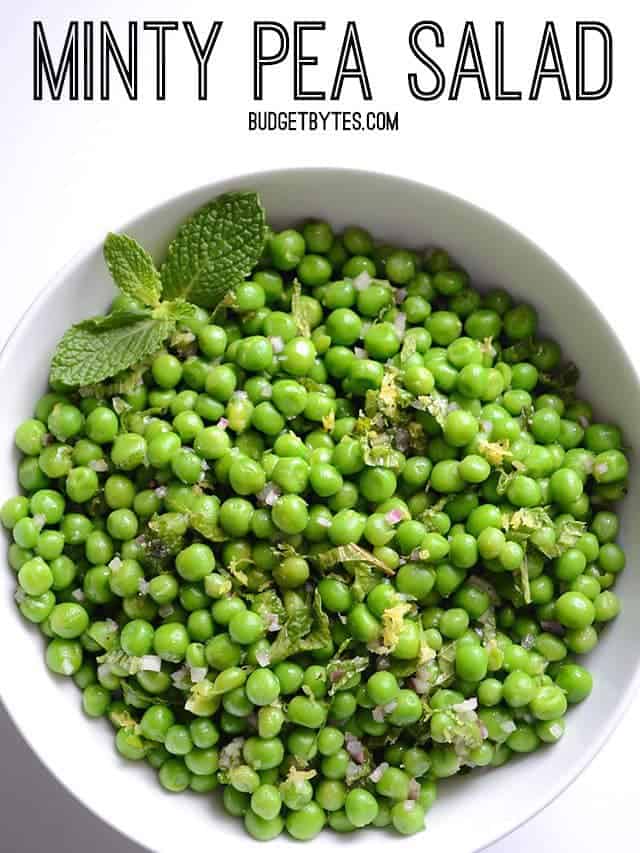 But here's the cool thing about mint: it grows like crazy with practically no effort at all. Plant that stuff in your yard and you can pretty much ignore it. Come back a month later that will have spread like wildfire. I haven't had a chance to set up herbs at my new house yet, though, so I had to buy it instead. If you don't want to buy it, chances are you know someone who grows it and I'm willing to bet they have way too much of it. So it's worth asking around.
I only used half the clamshell of mint for the Minty Pea Salad, but using up leftovers is easy. It's awesome in water (with cucumber or lemon), tea, lemonade, or mojitos! I've actually started putting it into my smoothies, too. Mmmm
But the peas! The mint in this Minty Pea Salad is so fresh and spring-like — it's amazing. A light lemon and shallot vinaigrette keeps things from getting too sweet and adds a little freshness of its own.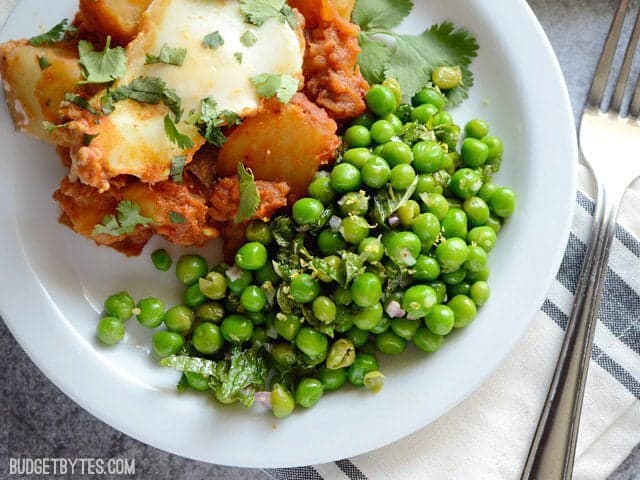 Minty Pea Salad
Mint and a fresh lemon and shallot vinaigrette turn a simple bag of peas into an elegant Minty Pea Salad. Pairs perfectly with a spicy main dish.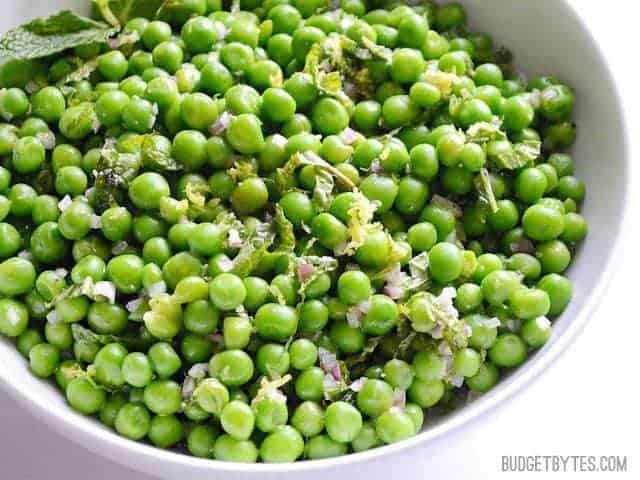 Ingredients
1

lb.

frozen peas

($1.59)

1

fresh lemon

($0.75)

1

small shallot, minced (about 2 Tbsp)

($0.22)

2

Tbsp

olive oil

($0.32)

1/4

tsp

salt

($0.01)

Freshly cracked pepper

($0.05)

3-4

sprigs fresh mint

($1.00)
Instructions
Let the peas thaw in a colander to allow excess moisture to drain away. Rinsing briefly with cool water will expedite the thawing process.

While the peas are thawing, prepare the lemon and shallot vinaigrette. Zest the lemon using a zester or a small holed cheese grater. Be sure to scrape off just the yellow zest and none of the bitter white pith. Set the zest aside, then squeeze about 2 tablespoons of the juice into a separate bowl.

Peel the dry, papery skin from the shallot, then mince it finely. Add it to the bowl with the lemon juice, along with 2 Tbsp olive oil, 1/4 tsp salt, and some freshly cracked pepper (5-10 cranks of a pepper mill). Whisk the ingredients together until combined, then set aside.

Rinse the mint to remove any dirt or debris. Pull the leaves from the stems and then slice into thin strips (or chop roughly).

Add the thawed peas to a large bowl along with the vinaigrette, mint, and a hefty pinch of the lemon zest. Stir to combine, then taste and add more zest if desired. Serve immediately, or refrigerate to allow the flavors to blend.
See how we calculate recipe costs here.
---
---
Nutrition
Serving:
1
Serving
Calories:
117
kcal
Carbohydrates:
11.03
g
Protein:
3.53
g
Fat:
7.18
g
Sodium:
213.4
mg
Fiber:
4.33
g
Read our full nutrition disclaimer here.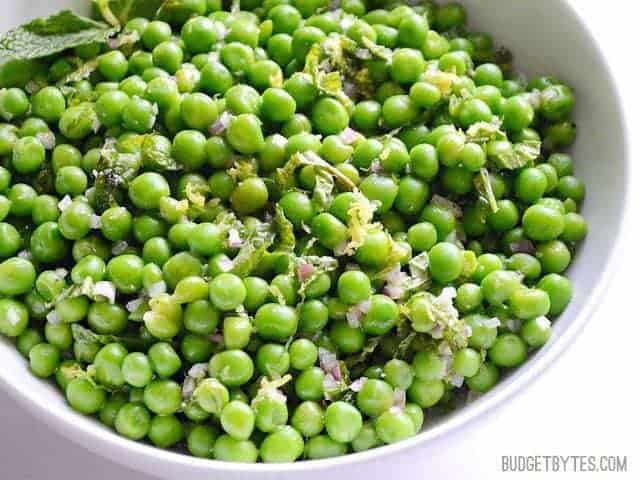 How to Make Minty Pea Salad – Step by Step Photos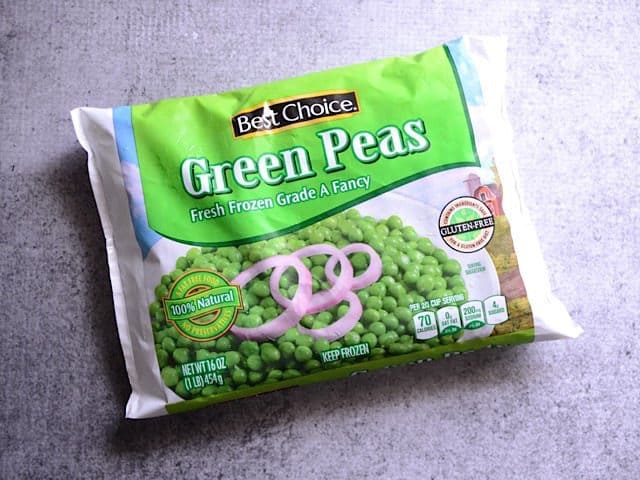 Start with one pound of frozen green peas. It's like Cinderella how this humble vegetable turns into such an elegant dish.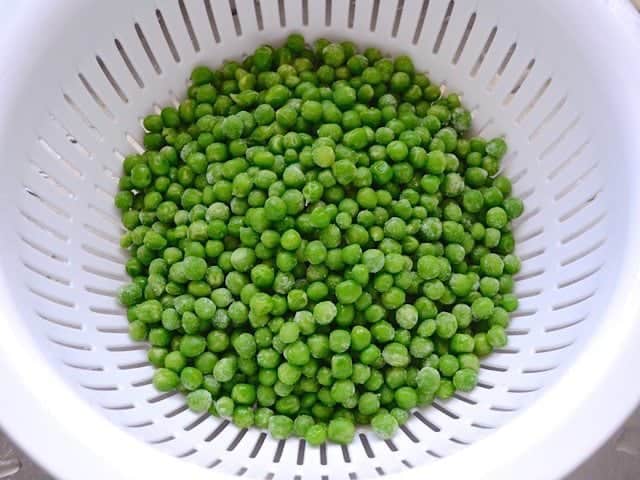 Thaw the peas in a colander so any excess moisture can drain away. Rinsing the peas briefly with water will make them thaw very quickly.
While the peas are thawing, begin preparing the lemon and shallot vinaigrette. Remove the zest from the lemon with a zester or a small-holed cheese grater. Squeeze about 2 Tbsp of the juice into a separate bowl.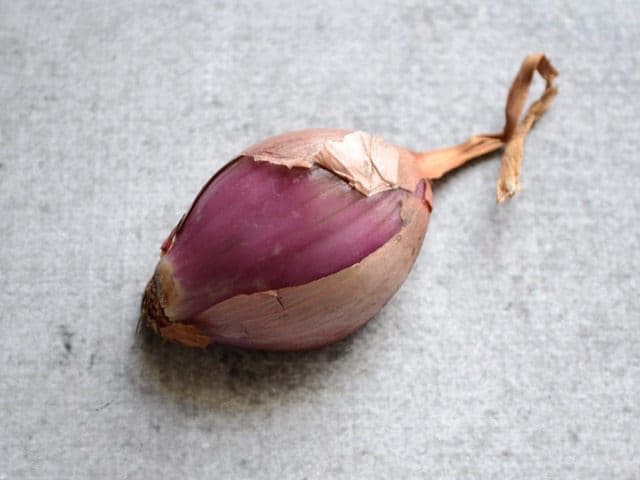 This is a shallot, or half of a shallot, actually. They're slightly bigger than a bulb of garlic, are purple, and have a brownish outer skin. Their flavor is much milder than garlic or onion and is slightly sweet. This mild flavor makes them perfect for vinaigrettes and dressings where garlic or fresh onion would overpower. I only needed a small amount, so I just tore this piece off of one (they kind of have two lobes, whereas garlic has several lobes/cloves). Shallots can be kind of pricy per pound, but luckily they're small and you may be able to, as in my case, just take half. You only need about 2 Tbsp once minced.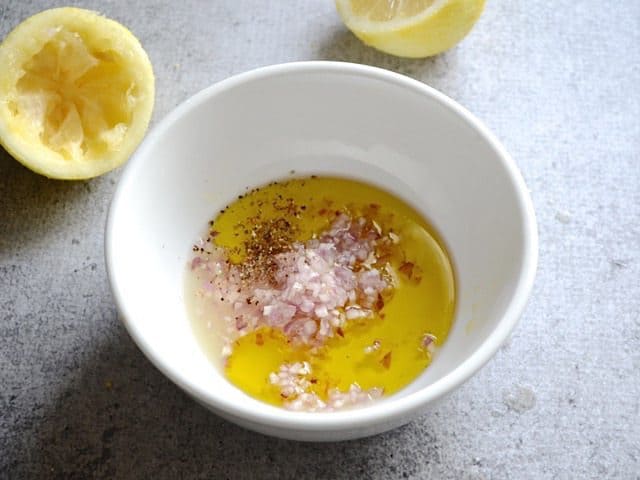 Combine the minced shallot, lemon juice, 2 Tbsp of olive oil, 1/4 tsp salt, and some freshly cracked pepper in a bowl.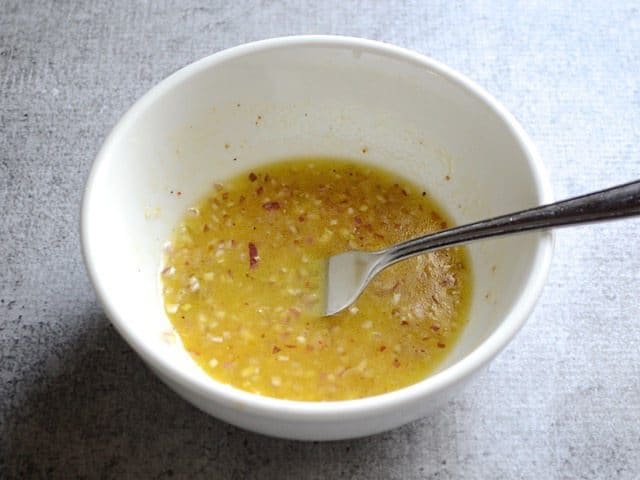 Whisk them together until combined. Set the vinaigrette aside.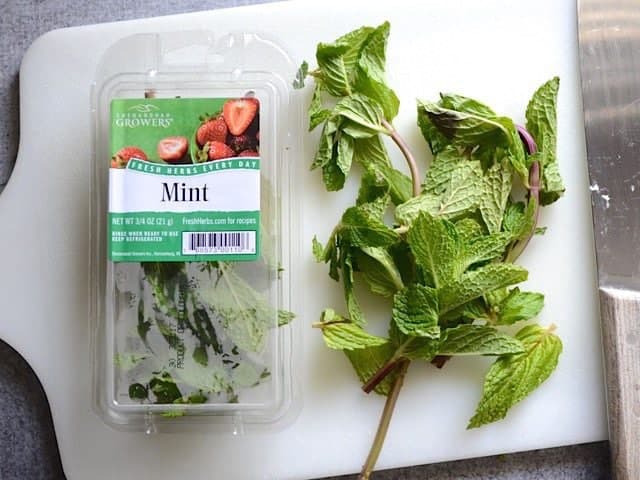 Now it's time for the mint. I used about 3-4 sprigs (or half of this 0.75oz. clamshell). The amount of mint you use is flexible, so don't stress about it. Rinse the mint to make sure there is no dirt or bugs.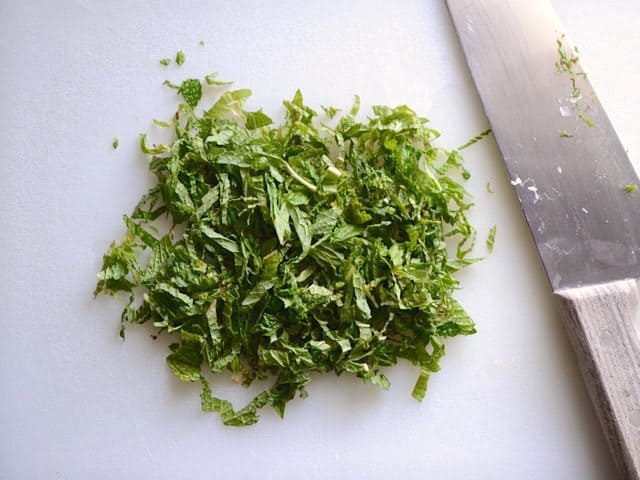 Pull the leaves off the stems, then slice them into thin strips (or just chop them roughly if you don't care about being fancy).
Finally, combine the thawed peas, mint, vinaigrette, and some of the zest (I just used a large pinch, maybe a teaspoon?) in a large bowl.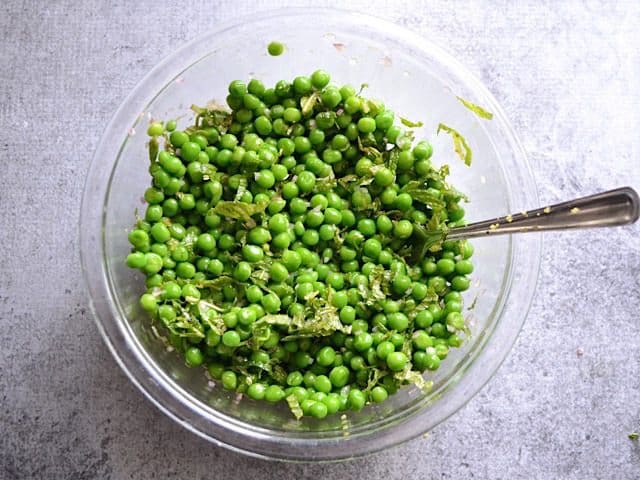 Mix the ingredients together and give the salad a taste. You can add more zest, mint, or salt if needed. While the salad tastes great immediately, I found the flavor to be a bit smoother after refrigerating for a while.
And now you have a super elegant side dish made from a simple bag of frozen peas (and some leftover mint to make mojitos, woot!).