I looove ricotta cheese. It's flavor is light and fresh flavor, making it great for warm weather dishes. So when I saw ricotta on sale at the store, I jumped at the chance to make this recipe for Spinach Ricotta Pasta that has been swimming around in the back of my head for a while.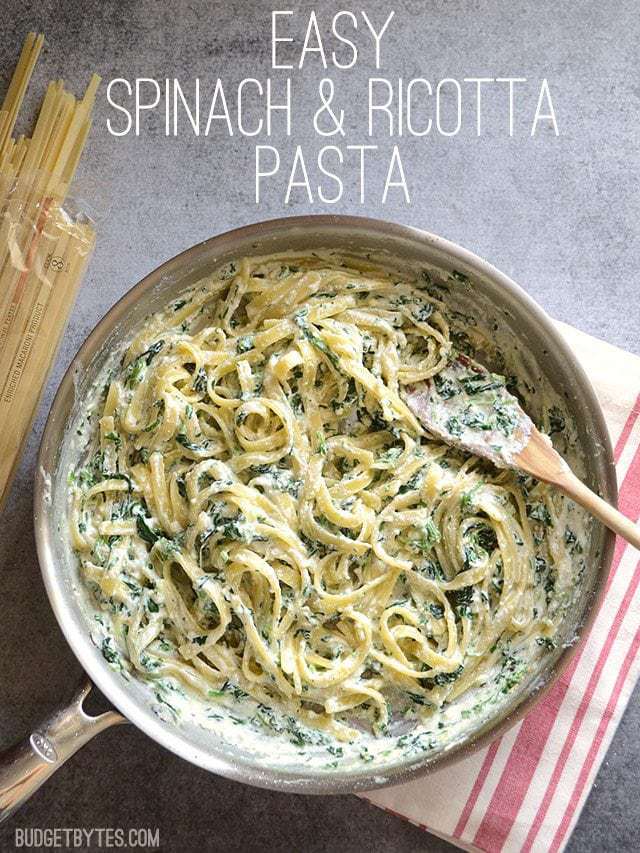 Customize Your Spinach Ricotta Pasta:
The simplicity of this pasta dish means it's really easy to customize by swapping out or adding ingredients to make it your own.
Can I Use a Different Vegetable?
I added my favorite versatile vegetable, frozen spinach, to help get a little green and fiber into the meal. If you're not into spinach, you could try frozen broccoli florets, but I'd make sure to chop them up into smaller pieces before adding them in.
Can I add Meat?
You can bulk up this spinach ricotta pasta and transform it from a side dish to a main dish by adding some chicken. Simply dice up some chicken breast and sauté it in the skillet with the olive oil and garlic in the beginning. You can do the same with shrimp, but remove the shrimp from the skillet after cooking, and add it back to the finished pasta dish to avoid over cooking the shrimp.
Use Good Ricotta
And one last note: all ricotta is not equal. I've had some brands that are so good I could eat it with a spoon and others that are just dry and tasteless. It may take some experimenting to find one that you really like (I used Breakstone for this recipe). And for this Spinach Ricotta Pasta recipe in particular, full fat ricotta is definitely best (lower fat ricotta can sometimes be gritty or chalky).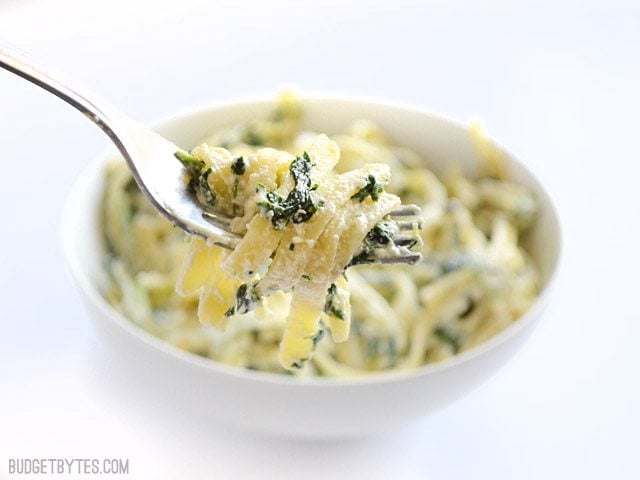 Easy Spinach Ricotta Pasta
This quick and luxurious Spinach Ricotta Pasta boasts a creamy and garlicky spinach sauce made easy with ricotta cheese.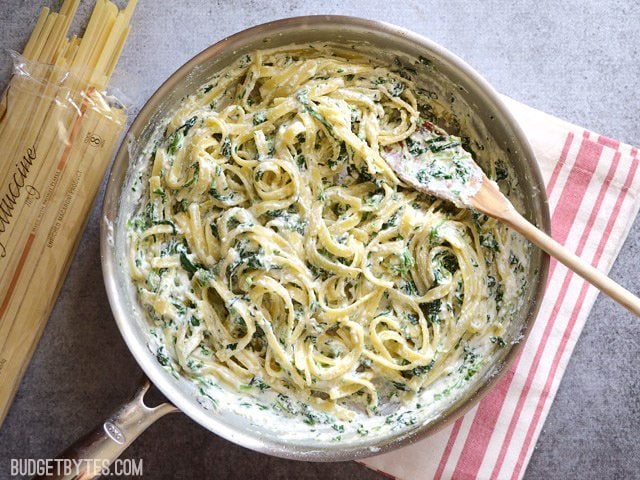 Ingredients
1/2

lb.

uncooked fettuccine

($0.75)

2

Tbsp

olive oil

($0.32)

2

cloves

garlic

($0.16)

1/2

cup

milk

($0.24)

1

cup

whole milk ricotta

($1.22)

1/4

tsp

salt

($0.02)

Freshly cracked pepper

($0.05)

1/4

lb.

frozen chopped spinach

($0.40)
Instructions
Place the frozen spinach in a colander to thaw while you work on the pasta and sauce.

Bring a large pot of water to a boil and then add the pasta. Let the pasta boil until al dente, then drain in a colander. Reserve about 1/2 cup of the pasta cooking water to help loosen the sauce later if needed.

While the pasta is boiling, prepare the ricotta sauce. Mince the garlic and add it to a large skillet with the olive oil. Cook over medium-low heat for 1-2 minutes, or just until soft and fragrant (but not browned). Add the milk and ricotta, then stir until relatively smooth (the ricotta may be slightly grainy). Allow the sauce to heat through and come to a low simmer. The sauce will thicken slightly as it simmers. Once it's thick enough to coat the spoon (3-5 minutes), season with salt and pepper.

Squeeze the thawed spinach to remove as much excess water as possible (squeeze it in your fist), then add it to the ricotta sauce. Stir until the spinach is distributed throughout the sauce. Taste and adjust salt or pepper if needed. Turn the heat off.

Add the cooked and drained pasta to the sauce and toss to coat. If the sauce becomes to thick or dry, add a small amount of the reserved pasta cooking water. Serve warm.
See how we calculate recipe costs here.
---
Nutrition
Serving:
1
Serving
Calories:
403.7
kcal
Carbohydrates:
49.95
g
Protein:
14.45
g
Fat:
16.3
g
Sodium:
362.4
mg
Fiber:
2.68
g
Read our full nutrition disclaimer here.
Love quick pasta dishes? Check out our Quick Pasta Recipes category!
How to Make Spinach Ricotta Pasta – Step by Step Photos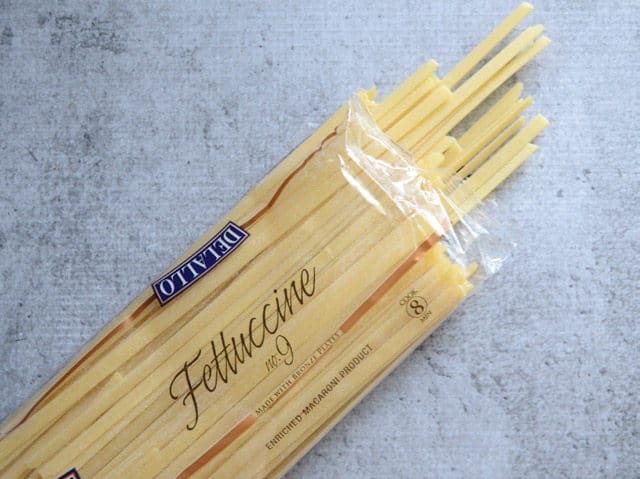 Before you begin, take about 1/4 lb. of frozen spinach out of the freezer to thaw. Place it in a colander to thaw so that excess moisture can drain away. The amount is flexible, so I just estimated 1/4 of a one pound bag. Begin boiling a large pot of water for the pasta. Once boiling, add 1/2 lb. of pasta to the water and boil until the pasta is just tender. I love this Delallo pasta because it has this great rough texture that helps grab pasta sauce. It's the best (not a paid advert!).
Once the pasta is done cooking, drain it in a colander, but save about 1/2 cup of the cooking water to help loosen the sauce later if needed.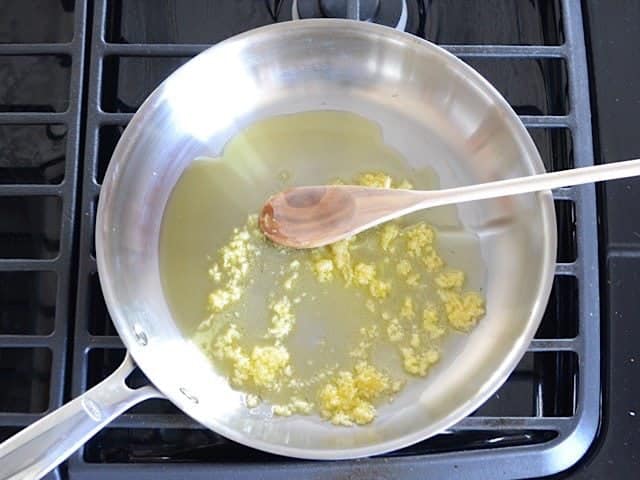 While the pasta is cooking, you can quickly assemble the ricotta sauce. Start with two cloves of garlic, minced, and 2 Tbsp of olive oil. Place both in a large skillet and sauté over medium-low heat for one to two minutes, or just until it's soft and fragrant. Try to avoid letting it brown.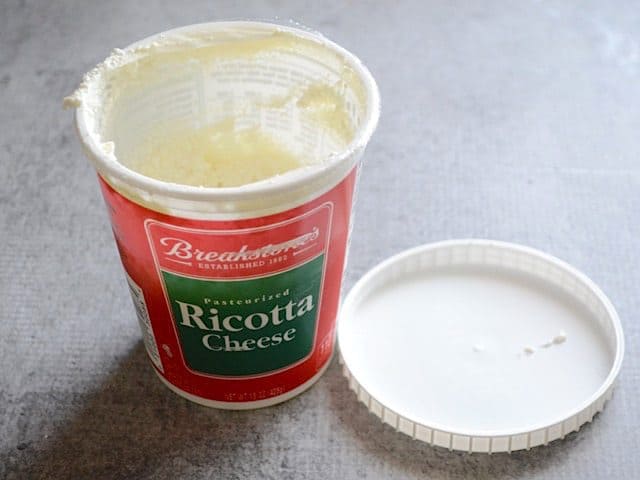 Whole milk ricotta is going to make the best sauce, so I highly suggest it for this recipe. Every brand is a little different, as well. It's been such a long time since I've bought ricotta that I forgot which is my favorite brand, but this one was decent, IMHO.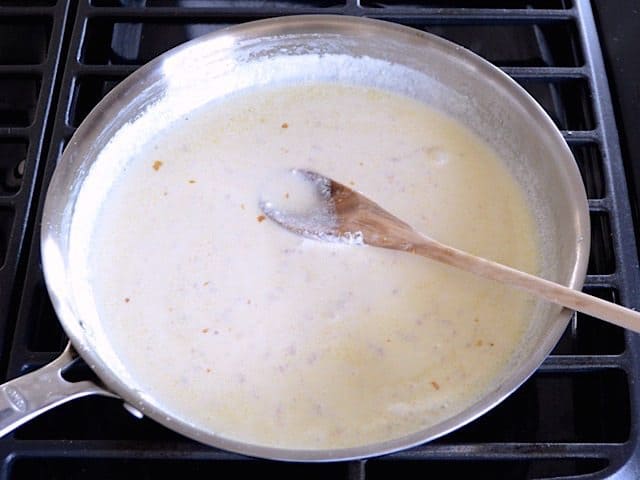 Add one cup of the ricotta and 1/2 cup of milk to the skillet with the garlic and oil. Stir the ingredients together until they're relatively smooth. The oil may sit on top and the ricotta may still be a bit lumpy or grainy, but that's okay. Let the sauce heat through and come to a low simmer. It will thicken a little as it simmers.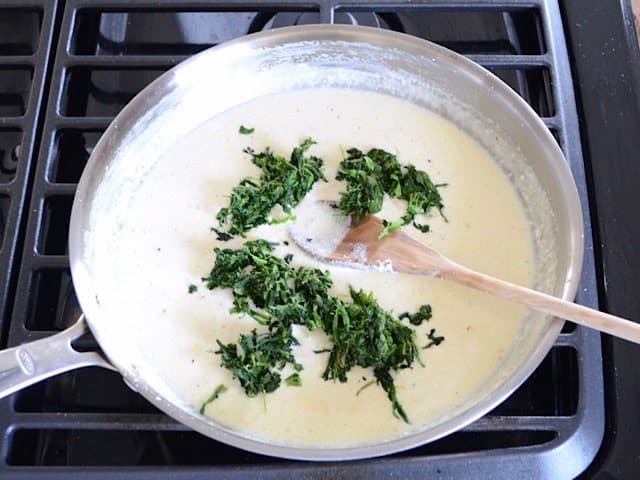 Once the sauce is thick enough to coat the spoon, season with 1/4 tsp salt and some freshly cracked pepper. Prepare the spinach by squeezing out as much moisture as possible. I just grab it in my hand and squeeze into a fist and let all the water drip out. Once it's fairly dry, stir it into the sauce.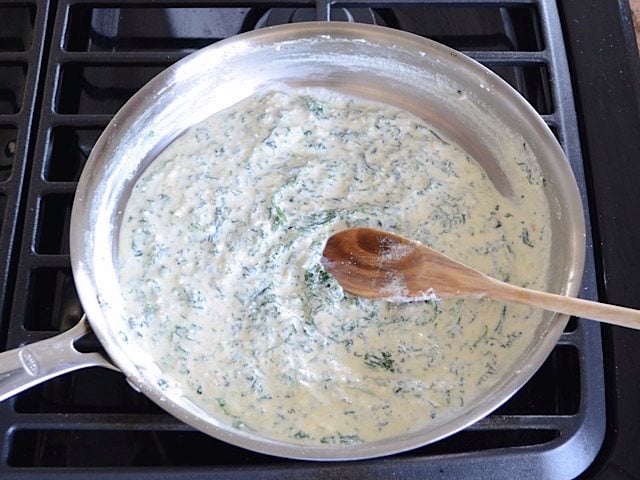 Stir the spinach into the sauce until it's well distributed throughout. Turn the heat off.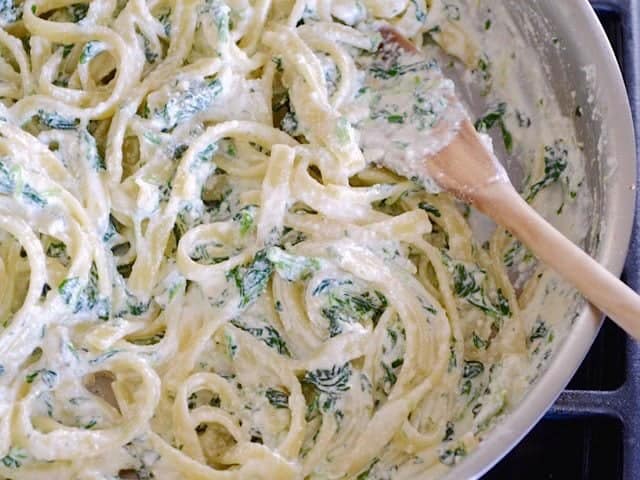 Finally, stir in the cooked and drained pasta and toss to coat in the sauce. If the sauce becomes too thick or dry, add a little of the reserved pasta cooking water to help loosen it up some.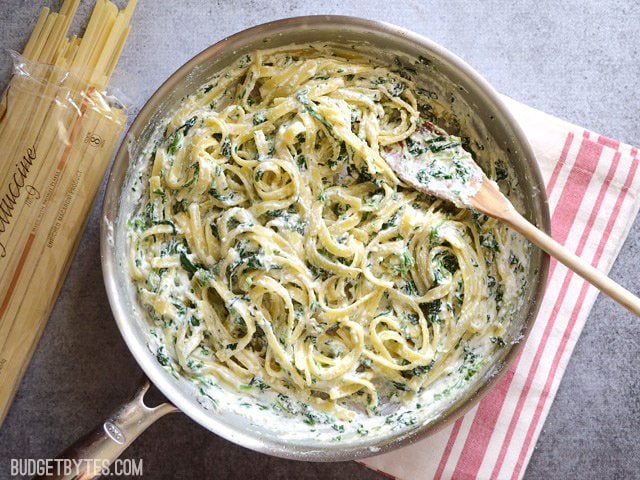 While it's totally against "tradition", I find that breaking long pasta like spaghetti or fettuccine in half before cooking it helps me stir in other ingredients later. The strands are still fairly long so they look nice on the plate, but the slightly shorter length helps other ingredients to incorporate into the mix. Can you tell that these are half length noodles?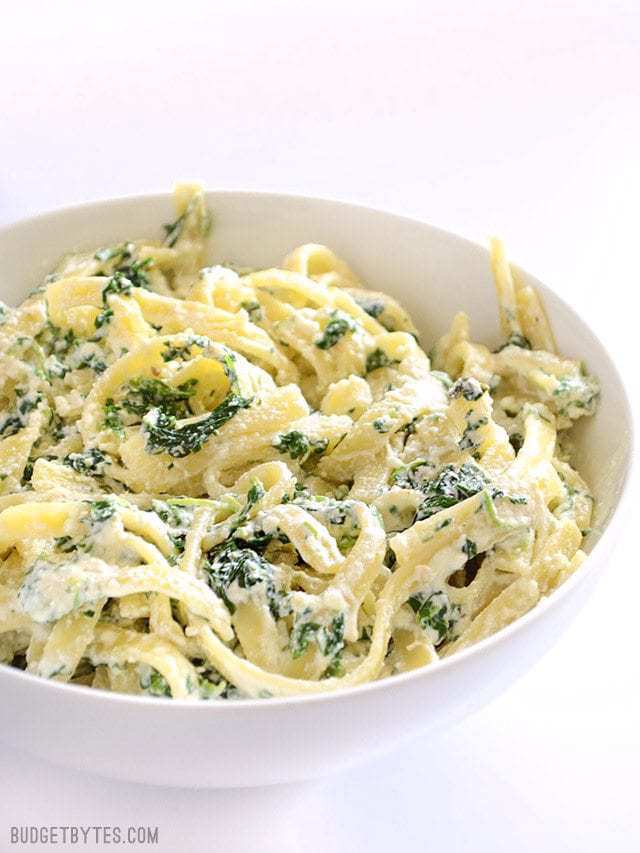 So there it is. This Spinach Ricotta Pasta is a light yet creamy weeknight pasta that can be thrown together in the time it takes for the pasta to cook. Perfect as a side to grilled or roasted meats, or as a vegetarian main dish when served in larger portions. Pair it up with a medley of grilled vegetables and you'll be in heaven!