I hope you are all having a wonderful weekend! I made a huge pot of Slow Simmered Black Eyed Peas and Greens earlier this week, and of course I meal prepped it! I kept this Black Eyed Peas Meal Prep pretty simple because the Black Eyed Peas and Greens is pretty much a complete meal itself. I just added some Sweet Potato Cornbread as a side and called it a day. It's totally a comfort food/soul food kind of week!
One thing I love to do when I design meals or meal preps is to make sure I include food from from at least two sides of the color wheel. Because the Black Eyed Peas and Greens has green vegetables, I wanted to make sure my side dish had some sort of red or orange (something like sweet potatoes, carrots, or tomatoes). If my main dish is mostly red, like a marinara sauce, I'll try to include a green vegetable as my side. This is not only helps make your meals visually appealing, but it helps make sure you get a wide variety of nutrients.
If you're not into Sweet Potato Cornbread, here are some other great sides that you can pair with the Black Eyed Peas and Greens: Everyday Cornbread, Chili Roasted Sweet Potatoes, Focaccia Rolls, Skillet Potatoes and Green Beans, Corn and Cheddar Pudding.
For more information about meal prepping, how it works, and why I do it, check out Meal Prep 101: A Beginner's Guide to Prepping and Portioning Meals, or check out my entire Budget-Friendly Meal Prep Archive.
Black Eyed Peas Meal Prep
This Meal Prep Includes:
Slow Simmered Black Eyed Peas and Greens: $6.96
Sweet Potato Cornbread: $4.00
Cost per meal: $3.39
Leftovers (assuming four meals packed): 1 serving black eyed peas and greens, 4 servings sweet potato cornbread
Cost of leftovers: $3.39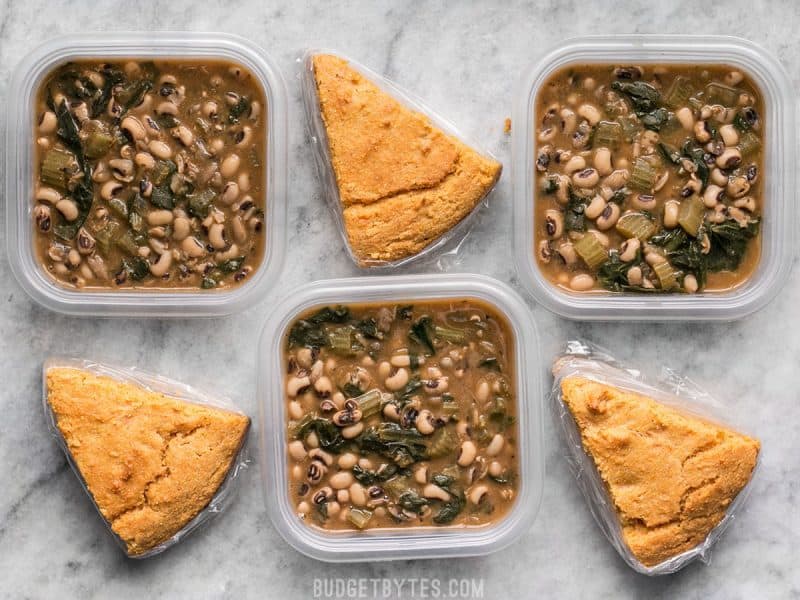 Notes:
BOTH the black eyed peas and the cornbread freeze beautifully! So, while you could technically pack five meals and just have three leftover slices of cornbread, I prefer to freeze that fifth serving of the black eyed peas to maintain its freshness, and freeze the rest of the cornbread.
I like the reusable blue top Ziploc containers (shown in the photos) for freezing because they are flexible and can accommodate expanding food, the beans pop out easily if you want to reheat in a sauce pot, and I'm afraid of dropping a frozen glass dish on my foot (LOL).
To freeze the cornbread, I would wrap each piece in a piece of plastic or the fold top sandwich bags, and then place them all in a heavy-duty freezer bag.
If you don't want to freeze the cornbread, you can also eat it for breakfast. I love serving it warmed up, slathered with butter, and with a fried egg. YUM. It's fairly sweet on its own, but a drizzle of honey or maple syrup makes it absolutely dessert-like.