This is the last installment in the shredded beef series. Although this recipe ended up being something quite different than I intended (thanks to my chronic absent mindedness), it still ended up super delicious!
I intended on making a classic ragout with lots of vegetables stewed into the sauce… but… somehow I forgot all of the vegetables (time to start taking ginko?). SO, if you want, you can finely dice a stalk or two of celery and shred a carrot in with the onion and garlic for the sauce. It will add tons of flavor, texture, and visual appeal. Not that it wasn't still delicious and gorgeous!
Wine adds quite a bit to the cost, but it has such an incredible flavor that I didn't want to skip it. If you'd rather not use wine, you can substitute with beef broth. While beef broth will also give you a nice deep flavor, it is a different deep flavor from the wine.
So, when I was brainstorming this recipe I got the idea to put the ragout over mashed cauliflower. Cauliflower isn't exactly cheap and I was hesitant to add to an already fairly pricy recipe, but I couldn't get it out of my head and had to try it. Was it delicious? Yep. Was it worth it? Eh, not unless you're trying to avoid carbs. My suggestion is to go the much more budget conscious route and serve this over mashed potatoes. Plus, one head of cauliflower didn't make very much mash. It yielded only 2-3 cups of mash, which doesn't give you much to spread out over the 6 servings of ragout. Go with mashed potatoes.
Beef Ragout with Mashed Cauliflower
beef ragout with mashed cauliflower
Rich beef ragout with garlic mashed garlic cauliflower.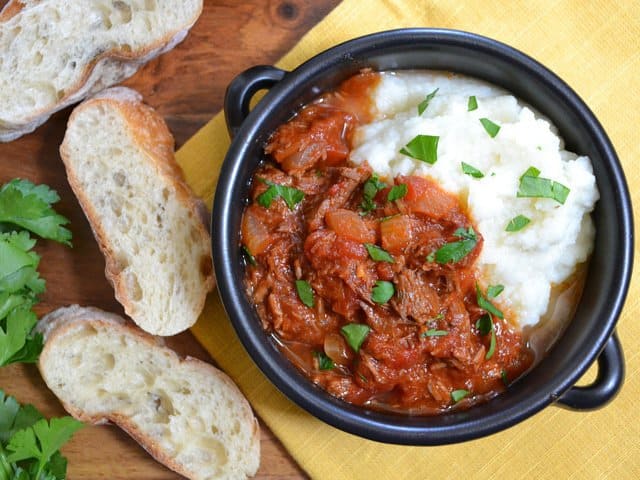 Ingredients
CAULIFLOWER
1

bunch

cauliflower

($2.99)

1

Tbsp

butter

($0.10)

1/2

tsp

chicken bouillon

($0.07)

1

clove

garlic

($0.08)

salt and pepper to taste

($0.05)
RAGOUT
2

Tbsp

olive oil

($0.32)

1

yellow onion

($0.36)

2

cloves

garlic

($0.16)

1

6oz. can

tomato paste

($0.55)

1/2

cup

red wine* or beef broth

($1.26)

1

28oz. can

diced tomatoes

($1.65)

1/2

tsp

dried basil

($0.03)

1/2

tsp

dried oregano

($0.03)

1

whole bay leaf

($0.15)

2

Tbsp

soy sauce

($0.04)

1

tsp

salt (optional)

($0.05)

2

tsp

brown sugar

($0.02)

2

cups

pre-cooked shredded beef

($5.20)
Instructions
To make the mashed cauliflower, bring a large pot of water to a rolling boil over high heat. While the water is heating, remove the stem from the cauliflower and cut it into florets. Once the water begins to boil, add the cauliflower and continue to the boil it for about 10 minutes, or until it is very tender.

Save about 1/2 cup of the cauliflower cooking water, and then drain the rest in a colander. Return the drained cauliflower to the pot with the heat turned off. Add the butter, chicken base, and one clove of minced garlic. Mash the cauliflower using a potato masher or an immersion blender, adding back some of the reserved cooking water if the moisture becomes dry. Season with salt and pepper to taste.

To make the ragout, dice the onion and mince the garlic. Add both to a large pot along with the olive oil. Saute the onion and garlic over medium-low heat for 3-5 minutes, or until tender. Add the tomato paste and continue to stir and cook the mixture for about five minutes (this will slightly caramelize the sugars in the tomato paste).

Stir the wine or beef broth into the tomato paste mixture. Add the diced tomatoes (with juices), basil, oregano, bay leaf, soy sauce, and brown sugar.

Thaw your shredded beef (if frozen) and drain off the cooking liquids. Add the shredded beef to the pot and stir everything together. Allow the mixture to come up to a light simmer and let it cook for 30 minutes, stirring occasionally. Finally, taste the sauce and add salt as needed (I added about 1 tsp, but start with 1/2 tsp).
See how we calculate recipe costs here.
---
Notes
*Don't worry too much over the variety of red wine. Just stay away from anything that says "sweet" or "dessert" on the label.
Nutrition
Serving:
1
Serving
Calories:
281.82
kcal
Carbohydrates:
22.48
g
Protein:
21.12
g
Fat:
11.9
g
Sodium:
1107.65
mg
Fiber:
7.18
g
Read our full nutrition disclaimer here.
Step By Step Photos

Cauliflower aren't cheap, at least not here, but I just had to try it. One head only made 2-3 cups of mash, so if you want more, double that part of the recipe. Or just use some cheap-but-delicious potatoes.

Cut the cauliflower into florets. I tried to find a happy medium size that was small enough to cook quickly, but not so small that it would fall through the holes in my colander.

Bring a large pot of water to a boil, then add the cauliflower. Let it boil for about ten minutes or until the cauliflower is really tender. Save a little bit of the cooking water in case you need a little moisture to help mashing. Drain the cauliflower and then return it to the pot with the heat turned off. Add the butter, chicken base, minced garlic, or whatever else you normally like in mashed potatoes. Parmesan cheese or cream cheese would make for a nice creamy mash.

It's kind of funny, but I don't own a potato masher. So, I used my immersion blender. Use a little of that cooking water if you need to moisten things up. Season with salt and pepper after mashing.

Now onto the ragout. Start by dicing the onion and mincing the garlic. Cook them both in a large pot with olive oil over medium-low heat until soft and transparent. If you want to add celery and carrots, do it here. Finely dice the celery and use a cheese grater to shred the carrot.

Once the onions have softened, add the tomato paste. Continue to cook and stir this mixture for about five minutes to slightly caramelize the sugars in the tomato paste.

Then stir in your red wine or beef broth. Oh man, if you could only smell the aroma coming out of the pot at that point… it will make you weak in the knees!

Then add the diced tomatoes, basil, oregano, bay leaf, soy sauce, and brown sugar. I used "petite diced" tomatoes, but if you can't find those, just use regular diced. It will just be slightly chunkier.

Thaw the shredded beef and drain off the liquid. Add the shredded beef to the pot. Stir everything together and then allow it to come up to a gentle simmer. Let the ragout simmer for 30 minutes so that the flavors can mellow and blend together.

Finally, taste the sauce and add salt as needed. I added 1 teaspoon, but start with just 1/2 teaspoon and work up from there. If you used beef broth rather than wine, you'll likely need less salt. Remove the bay leaf and serve!