It's a pretty busy week around the Budget Bytes household, so I'm just going to take a quick minute today to round up some really fast and easy ONE POT recipes for when your life is as busy as mine! :D All of these recipes feature your protein, vegetables, and grains cooked together in one skillet or pot, making dinner ridiculously easy to prepare and serve. Here are 24 of our best super easy one pot dinner ideas that require little effort and even less clean up. XOXO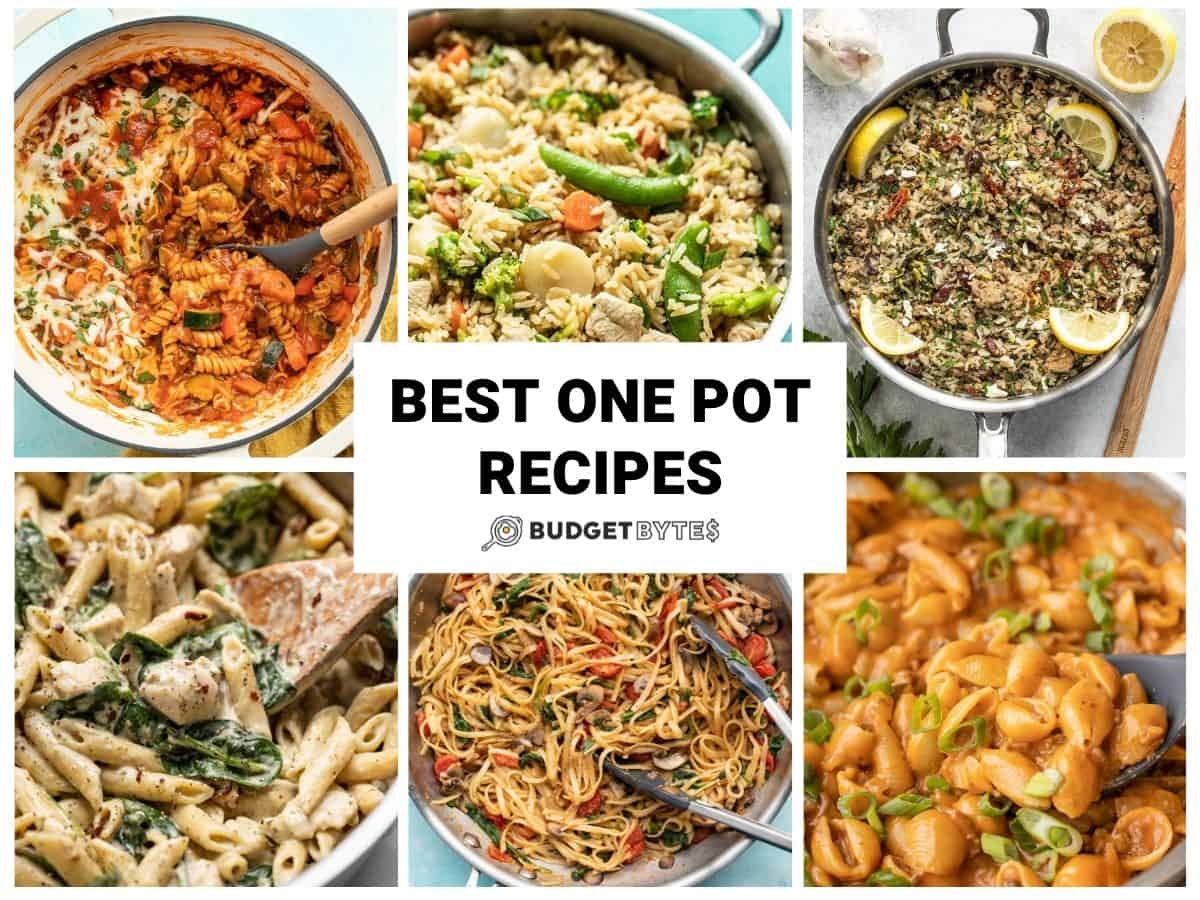 See our full One Pot Category here.
Tips for One Pot Recipes
I find that the success of "one pot" recipes rests on two things: quality cookware and a good flavored broth (most of these recipes use broth as a cooking liquid). One pot recipes need very even heating, so good cookware is crucial. Poorly constructed cookware or vessels that are too thin tend to have hot spots that cause rice and pasta to scorch or stick to the bottom of the pot. I use Better Than Bouillon to make my broth for cooking, which not only offers a lot of flavor, but usually provides enough salt to season the entire dish. If your recipe turns out bland, your broth may be less flavorful or less salted than mine. Sometimes adding a pinch of salt to your final recipe can really help the flavors pop!
One Pot Pastas
When you're craving a cheeseburger but need that ground beef to stretch to more servings, this one potp cheeseburger pasta is IT!
When you want something that feels fancy, but is still incredibly easy, try this one pot creamy sun dried tomato pasta!
This American Goulash is such a classic comfort food! It's definitely in my regular rotation during the colder winter months.
Need a dish that's going to impress a date, your in-laws, or even yourself? Whip up this Creamy Pesto Chicken Pasta. ;)
Take your classic mac and cheese up a notch with bacon and broccoli!
This Cajun chicken pasta is FULL OF FLAVOR. A healthy does of herbs and spices make every bite a flavor explosion.
Simple, delicious, and well rounded, this one pot pasta is a classic.
Vegetarian comfort food at its best!
This amazing roasted red pepper pasta is great whether you make it creamy or not!
If you need to feed a crowd, this Pastalaya is always a winner. It has tons of flavor and is a breeze to prepare.
Bacon makes everything better! …And we add a couple handfuls of fresh spinach for good measure. ;)
This simple one pot pasta is where it all started!
All the flavors of tacos in a simple to prepare (and eat) pasta dish.
This creamy pasta is full of earthy mushrooms and umami!
Get your daily dose of veggies in this hearty and delicious one pot meal.
Creamy and beefy, this one pot beef and mushroom stroganoff can help you stretch your ground beef over more meals.
One Pot Rice Recipes
It's like jambalaya "lite". Fast, easy, simple.
This is the perfect light, fresh, and zesty spring or summer meal!
If stuffing bell peppers is a bit too tedious or tricky for you, just throw it all into one pot!
Utilizing frozen vegetables makes this meal so fast and easy, and with next to no chopping!
Super flavorful ingredients like lemon, feta, olives, and sun dried tomatoes takes the flavor of this rice dish to the NEXT LEVEL.
You can never go wrong with rice, beans, and salsa, and this meal takes it a step further with some chicken and cheese. All in one pot!
This is, hands down, the most flavorful vegan meal I've ever had in my life!
Spicy chorizo and sweet potatoes make a perfect match in this simple rice-based one pot meal.