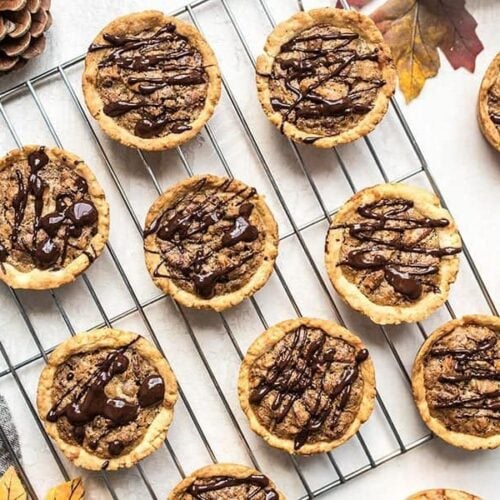 Print Recipe
Mini Dark Chocolate Pecan Pies
These easy Mini Pecan Pies studded with dark chocolate make the perfectly balanced and pre-portioned dessert for all of your holiday gatherings.
Crust
8

Tbsp

salted butter, room temperature

$0.75

4

oz.

cream cheese, room temperature

$0.60

1

cup

+ 2 Tbsp all-purpose flour

$0.13

1

Tbsp

sugar

$0.02
Filling
75

grams

dark chocolate, divided

$1.19

1

large

egg, lightly beaten

$0.26

3/4

cup

brown sugar

$0.36

1

Tbsp

metled butter

$0.09

1

tsp

vanilla extract

$0.14

2/3

cup

pecan pieces

$1.69
Preheat the oven to 350ºF. Beat together the butter and cream cheese in a large mixing bowl. Once combined, add 1 cup flour the sugar, and beat again until combined. The mixture may look dry and crumbly, but should stick together when squeezed with your hands. Form the mixture into a ball, adding an extra tablespoon or two of flour if it becomes too sticky.

Divide the dough into 12 equal pieces. The easiest way to do this is to first divide the dough into four equal-sized pieces, then divide each of those into three. Roll each piece into a ball, then place each one in the well of a regular-sized muffin tin (NOT a mini muffin tin). The muffin tin does not need to be greased.

Use your fingers to press the dough balls into the bottom and up the sides of the muffin tin wells. It's okay if the dough does not reach the very top of the well. Make sure to press it deep into the corners, to avoid rounded thick corners. Place a dime-sized piece of chocolate into each of the shaped pie crusts. I used about 50 grams of the chocolate in the bottom of the pies, and the rest was used to drizzle on top after baking.

To make the filling, add the beaten egg, brown sugar, melted butter, vanilla, and pecans in a small mixing bowl. Stir to combine, avoiding beating the mixture too much or causing frothy air bubbles.

Spoon the mixture evenly between each of the pie crusts. The filling will only fill each pie crust about half way, but will puff up as it bakes. Once filled, place the muffin tin in the preheated oven and bake for 30 minutes.

Once the pies are baked, melt the remaining 25 grams of chocolate. You can melt it using a microwave, heating for 15 seconds at a time and stirring well after each heating, until melted, or by placing a small bowl over a double boiler. Once melted, drizzle the chocolate over each pie.

Allow the pies to cool completely, then use a small knife to gently lift them out of the muffin tin.