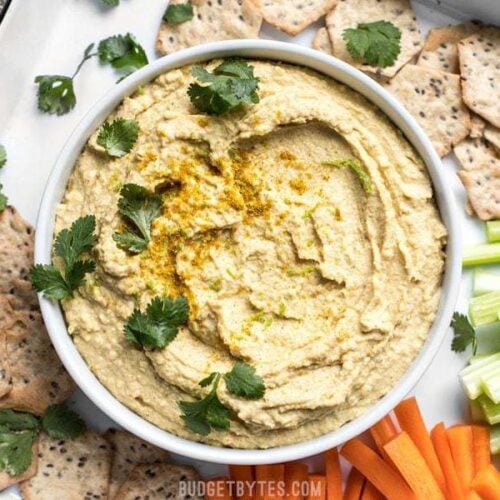 Print Recipe
Coconut Curry Hummus
This Coconut Curry Hummus throws a new twist on the traditional dip with creamy coconut milk, vibrant lime, and warm curry spices.
Drain and rinse the chickpeas, then add them to a food processor along with the garlic, tahini, 2 Tbsp lime juice, 1/2 tsp lime zest, curry powder, salt, and 1/2 cup coconut milk.

Secure the lid on the food processor and process until the mixture becomes a smooth paste. Add more coconut as needed to make sure there is enough moisture to make the hummus smooth. I used 1 cup total, but the total will depend on the consistency of your coconut milk.

Taste the hummus and add more salt, lime, or curry powder to taste.