Enchilada sauce is one of my very favorite things, ever. I love when it soaks into a flour tortilla while baking and makes everything tangy and spicy and good. Mmmmm. Unfortunately, I was less than impressed with the last can of enchilada sauce that I bought and my local grocery store doesn't have much of a selection. So, I thought it was high time that I made some Red Enchilada Sauce myself.
I'm kicking myself for not doing this sooner.
It literally takes about 10 minutes, uses ingredients that I always have on hand, and tastes about a million times better than that sad can that I used the other day. Plus, I made twice the volume for half the price. I'll never go back to the can. Never.
I made a vegetarian version out of sheer laziness, but if you're a carnivore try using chicken broth in place of the water for more flavor oomph (I've had a cold and apparently, mixing chicken base into hot water to make broth just takes too much energy).
You can adjust the heat by adjusting the amount of cayenne pepper. The brand of chili powder I use is completely mild, so all the heat comes from the cayenne. So, if you want the sauce mild, either leave out the cayenne or use less. I used 1/4 tsp and it only had a slight kick – kind of like medium salsa.
Now on to the good stuff!
Easy Red Enchilada Sauce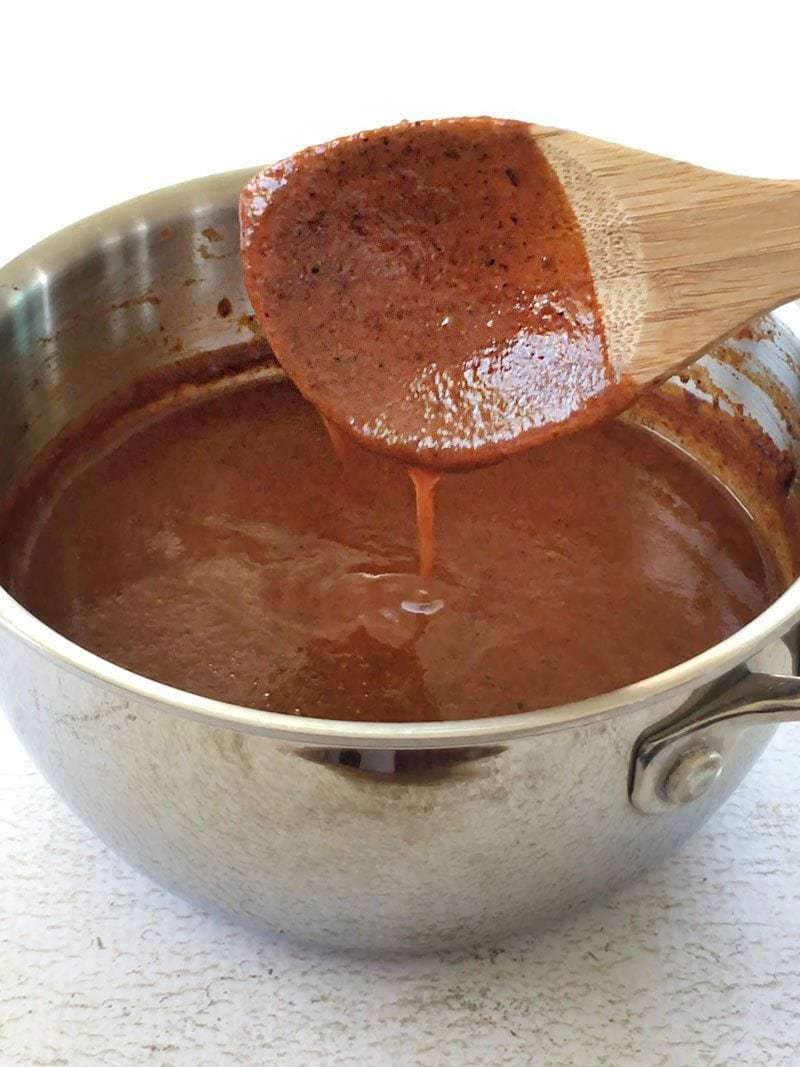 See This Recipe in Action:
Easy Red Enchilada Sauce
It only takes 10 minutes to make this super easy red enchilada sauce that is bursting with flavor. Never buy the canned stuff again!
Ingredients
2

Tbsp

vegetable oil

$0.10

2

Tbsp

all-purpose flour

$0.02

2

Tbsp

chili powder

$0.30

2

cups

water

$0.00

3

oz.

tomato paste

$0.27

1/2

tsp

cumin

$0.03

1/2

tsp

garlic powder

$0.03

1/4

tsp

cayenne pepper

$0.02

3/4

tsp

salt or to taste

$0.03
Instructions
Add the vegetable oil, flour, and chili powder to a medium pot. Turn the heat on to medium and whisk the ingredients together. Continue to whisk as the mixture begins to bubble. Whisk and cook the mixture for one minute once it begins bubbling.

After one minute, whisk in the water, tomato paste, cumin, garlic powder, and cayenne pepper until smooth. Allow the sauce to come up to a simmer. Once it reaches a simmer it will begin to thicken slightly.

Starting with a 1/2 teaspoon, add salt to taste. I used about 3/4 teaspoon total. The sauce is now ready to use!
Recipe Notes
Enchilada sauce can be poured over enchiladas, burritos, stuffed poblanos, or used in casseroles for extra flavor.

Shown here with my Weeknight Enchiladas.
Step By Step Photos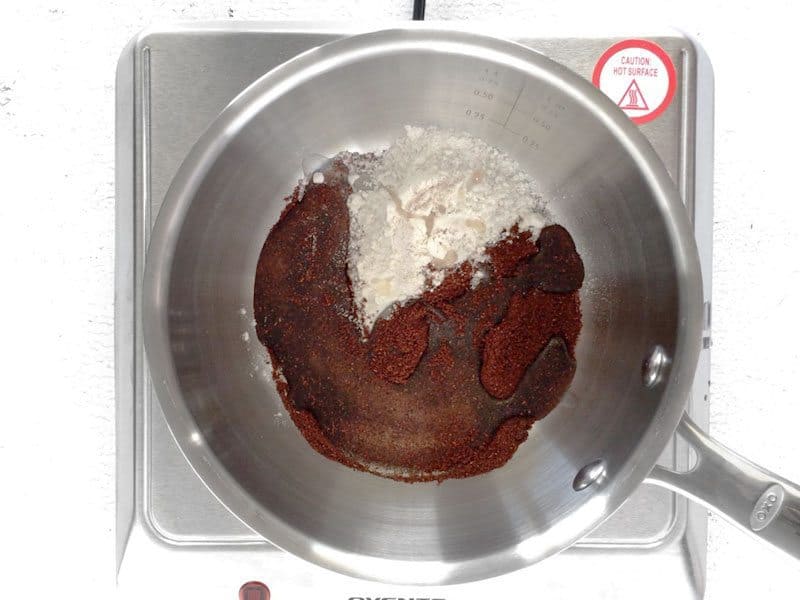 Start by adding 2 Tbsp flour, 2 Tbsp chili powder, and 2 Tbsp oil to a pot. I use McCormick's chili powder, which is not spicy, just flavorful, so don't be frightened by the large quantity in the recipe. All of the heat comes from the cayenne pepper.

Whisk these ingredients together and allow them to come up to a bubble over medium heat, whisking the whole time. Whisk and cook for one minute. This will toast the flour and chili powder, adding to the flavor depth and making sure that the flour doesn't taste like paste.

After one minute, whisk in the 2 cups water.

Also whisk in 3oz. tomato paste (half of one of those small 6oz. cans), 1/2 tsp cumin, 1/2 tsp garlic powder, and 1/4 tsp cayenne.

Let the sauce come up to a simmer and it will begin to thicken.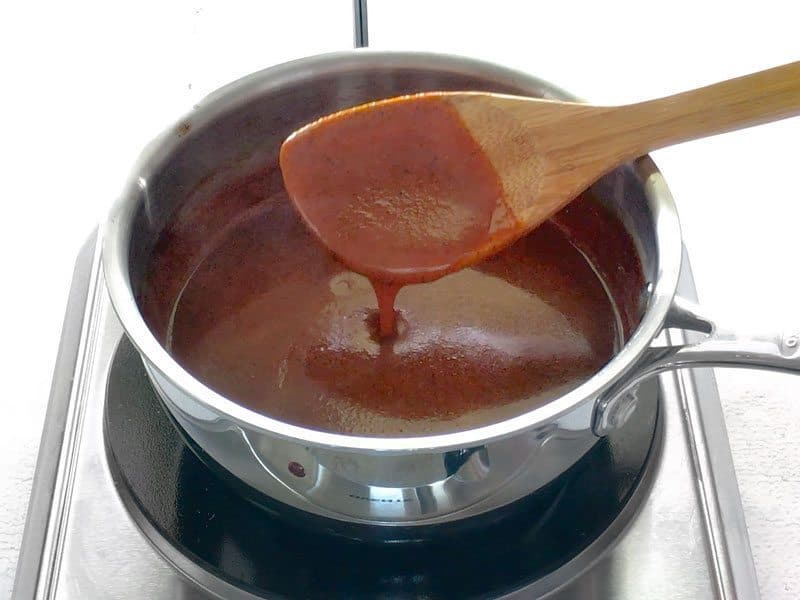 See how it coats my spoon? Perfect. Now taste it and add salt to your liking. Start with about 1/2 teaspoon and add more if needed. The salt will really help bring out the flavors. If you're using chicken broth, you might not need to add any at all.
And now you're good to go! Enjoy!