The Budget Bytes App is Coming!!
OMG you guys! I've been keeping this secret for months now, and I finally get to tell you! A Budget Bytes app is coming! And soon! Like, in one week!
For years you've been asking for a fast and easy way to access all of your favorite Budget Bytes recipes, and it's finally happening! I am beyond excited to announce that a Budget Bytes app is finally on the way. I've partnered with the tech-savvy team at SideChef to bring you an easy to use app packed with 100 of the top Budget Bytes recipes, and more features than I could have imagined. It's like an interactive and customizable cookbook with my voice coaching you through each recipe! Cool, right??
Features
Why am I so excited about this app? Well, let me just list a few of the super cool things it can do…
It delivers the recipes you love faster and easier without waiting for a website (or annoying ads) to load. Plus, you can save recipes to personal "cookbooks" to access your favorites even faster.
Filter recipes by price to get recipes that are the best fit for your budget.
Adjustable serving sizes let you cook the amount that you want and reduce food waste.
Access how-to technique videos right in the instructions so you can cook with extra confidence.
Cook with me, in real time! We wanted to make this app extra personal, so you'll have my voice giving you step-by-step instructions as you cook.
Plus, we'll be adding new features, recipe collections, and recipes as time goes on.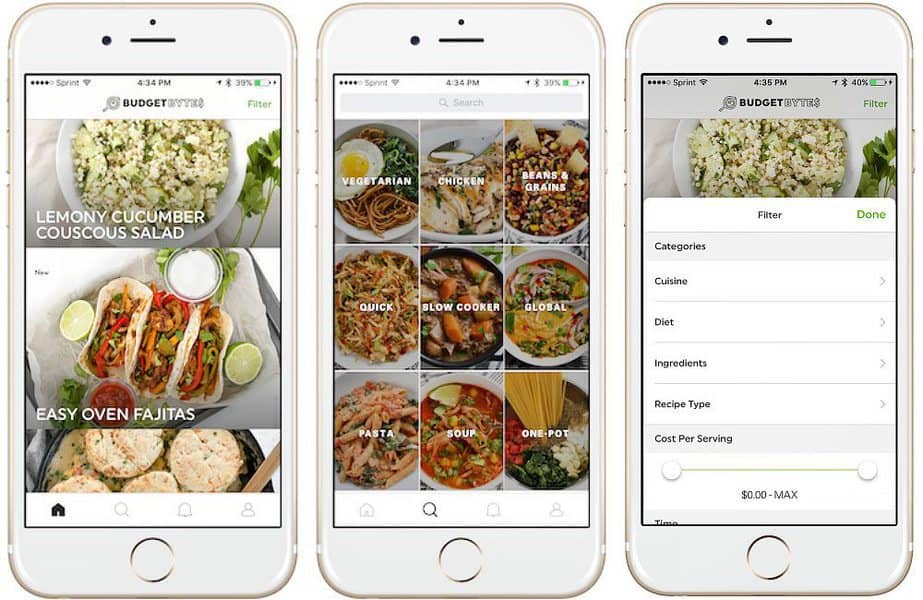 Win a Free Download Code
With just one short week until the app goes live, we wanted to kick things off with a big giveaway. We have 100 free download codes, so if you're interested in the app (and I know you are!) sign up below to be notified about the launch and other app updates. 100 random people who subscribe will receive a code for a free download in the app store the day before the launch (6/13/17). YAY, FREE! Make sure you sign up soon, though. The contest is only open through 11:59pm on Monday 6/12/17.
[convertkit form=5034021]
By submitting your email to the subscription form you are agreeing to the terms and conditions of the giveaway. Tell your friends, tell your family, tell your neighbors! THE BUDGET BYTES APP IS COMING!