Chicken thighs are a favorite of mine because they're inexpensive, easy to prepare, tender, juicy, and quite versatile. So I was really excited when they went on sale last week. I'm always looking for new ways to season them up or infuse flavor (see Maple Dijon Chicken Thighs, Honey Sriracha Chicken Thighs, and Soy Dijon Chicken Thighs), but decided to go with something very simple and delicious this time around. So I mixed up a very basic marinade with balsamic vinegar, garlic, a little freshly ground pepper, soy sauce for salt and depth, and a touch of brown sugar to balance the acids. The sweet and tangy marinade absorbed right into the tender meat and gave these Balsamic Chicken Thighs more flavor than a girl could ask for.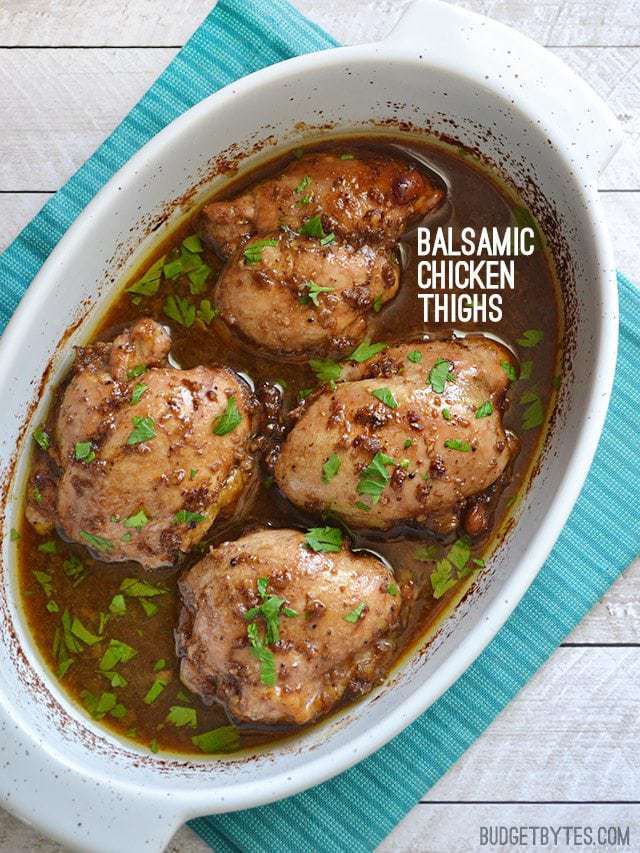 I served these tasty Balsamic Chicken Thighs with some Skillet Potatoes and Green Beans, but they'd also be great with some rice or pasta to soak up all the delicious juices (just spoon it from the baking dish over top of your plate). Or, just make sure have some crusty bread on hand for sopping.
I love baking chicken thighs in the oven because it's easy and hassle free, but this recipe would also work quite well on the grill. The little bit of brown sugar in the marinade will caramelize on the outside of the chicken for a deep, caramel-y flavor. Oooh, I'm so happy it's outdoor grilling weather again! I <3 spring!
Balsamic Chicken Thighs
These easy Balsamic Chicken Thighs are a tasty and juicy answer to "what's for dinner?" Prepare the marinade in the morning and bake when you get home.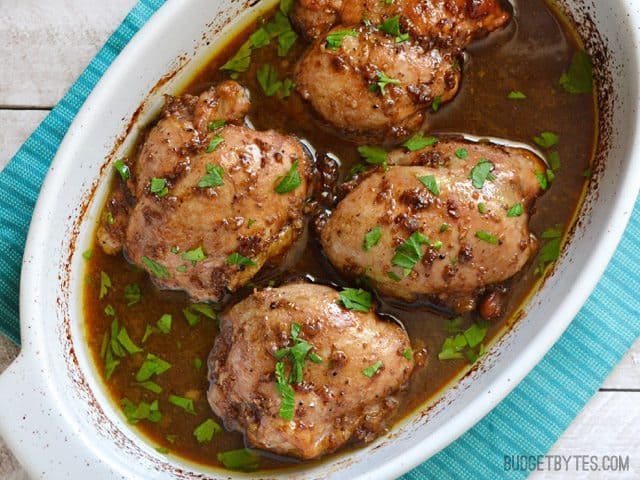 Instructions
Mince the garlic and combine it in a bowl with the olive oil, balsamic vinegar, brown sugar, soy sauce, and a healthy dose of freshly cracked pepper (about 20 cranks of a pepper mill). Place the chicken thighs in a shallow dish or heavy duty zip top bag and pour the marinade over top. Marinate the chicken in the refrigerator for 1 to 8 hours. (You can do this before you leave for work in the morning.)

Preheat the oven to 375 degrees. Pour the chicken and marinade into a baking dish. Place the chicken in the oven and bake for 45 minutes. Use a spoon or baster to bathe the chicken with the juices from the bottom of the dish once or twice during baking.

Remove the chicken from the oven after 45 minutes and sprinkle a handful of freshly chopped parsley over top.
See how we calculate recipe costs here.
---
Notes
This marinade would be enough to flavor six boneless, skinless chicken thighs, if needed.
Nutrition
Serving:
1
Serving
Calories:
431.1
kcal
Carbohydrates:
10.35
g
Protein:
61.78
g
Fat:
13.93
g
Sodium:
409.13
mg
Fiber:
0.13
g
Read our full nutrition disclaimer here.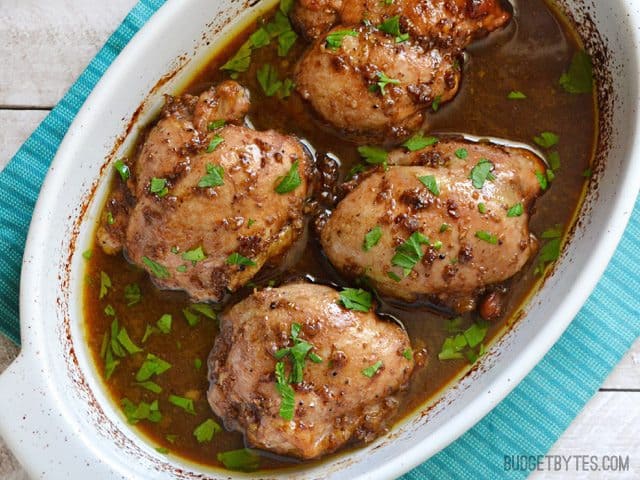 How to Make Balsamic Chicken Thighs – Step by Step Photos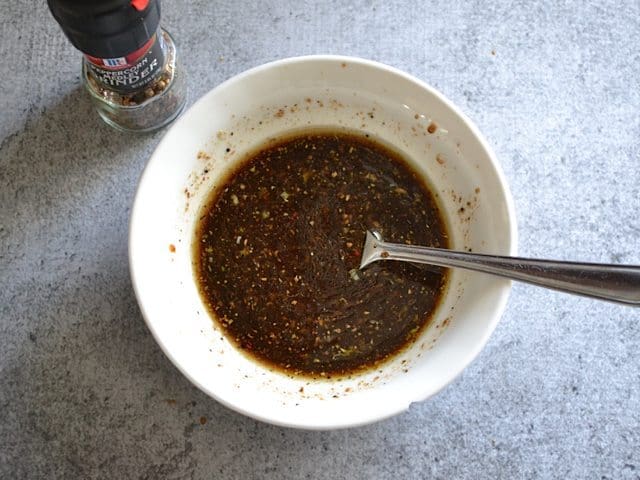 To make this super simple marinade, just mince two cloves of garlic, then combine them in a bowl with 2 Tbsp olive oil, 1/4 cup balsamic vinegar, 2 Tbsp brown sugar, 1 Tbsp soy sauce, and a healthy dose of freshly cracked pepper (I use this McCormick grinder). While fancy balsamic vinegars ARE usually better tasting, I just used a basic, widely available brand (this one) and it tasted quite good. I'll save my good stuff for sprinkling over salads or dipping some nice bread in.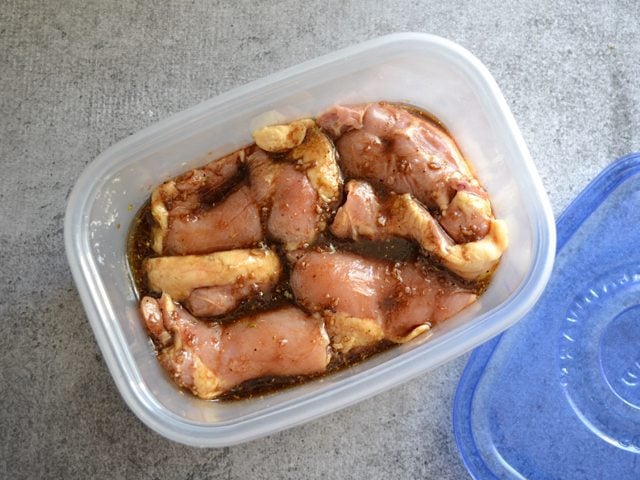 Place four (or six) boneless, skinless chicken thighs in a shallow dish and pour the marinade over top. You can also do this in a heavy-duty zip top bag (probably a gallon size), but I was out of those. Refrigerate the meat and marinade for one to eight hours so it can soak up all that goodness. I don't bother trimming the fat off the meat because a lot of it melts off the chicken as it bakes (plus, I like the flavor), but you can before adding the marinade, if you prefer.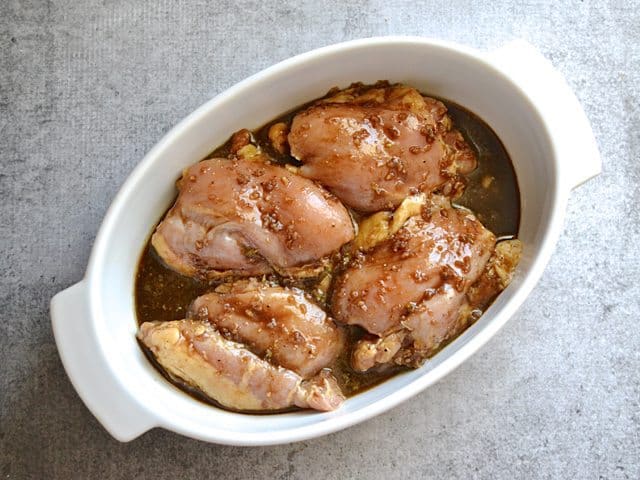 When you're ready to cook, preheat the oven to 375 degrees. Pour the meat and all the marinade into a baking dish (you can spritz it with non-stick spray to help cleaning later, if you wish). Bake the chicken for 45 minutes, using a spoon or baster to bathe the meat with the juices once or twice during cooking.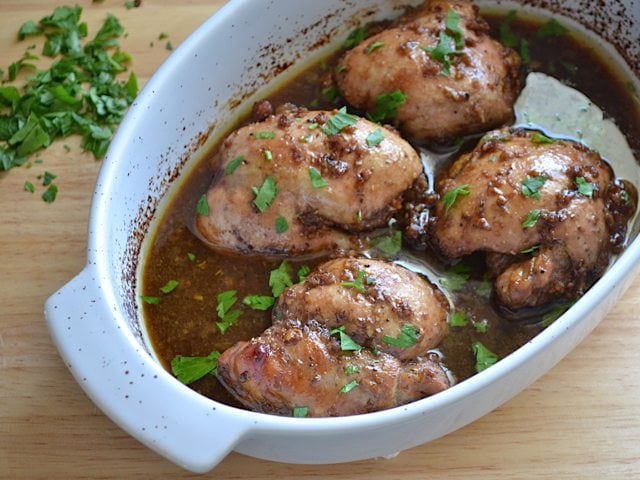 Sprinkle the Balsamic Chicken Thighs with a handful of chopped fresh parsley for garnish (or fresh basil if you have it growing in your garden!) and serve. NOM.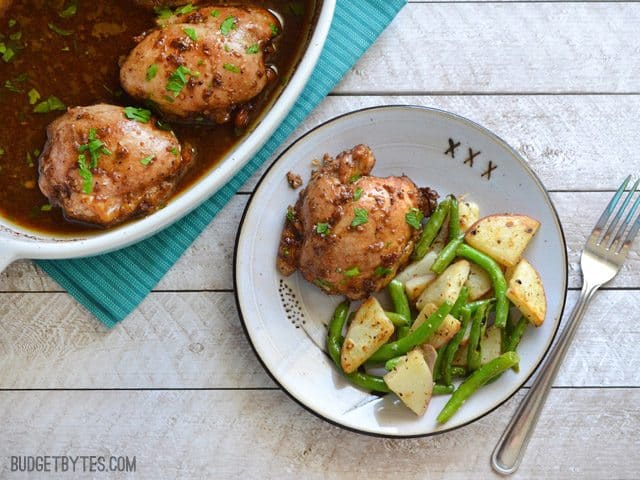 What a pretty springtime meal! I just need some bread to get all those yummy juices from the Balsamic Chicken Thighs into mah mouth!